Aftermath
The Redcar Palace is delighted to present Aftermath by Leeds based artist Rebecca Appleby. The exhibition features an impressive new body of work made specifically for Redcar and a survey of some of her most important work made over the 20 years of practice.
Rebecca is most well-known for her sculptures made in ceramics although as this exhibition reveals, painting has also always been an important aspect of her work, whether that be painting onto board and paper or onto the surface of her sculptures.
Since the birth of her son in 2017 and her subsequent diagnosis and recovery from a life-threatening illness her work has increasingly reflected upon trauma and the impact of decay upon both natural and human made structures. In her new body of work Rebecca explores these ideas through works that are strange and looming whilst also beautiful. A series of small bowls made for this exhibition include fragments of brick, stone and metal, fragments of industry, which were all gathered by the artist from the beach at South Gare.
This exhibition has been curated by James Beighton with Beth Smith.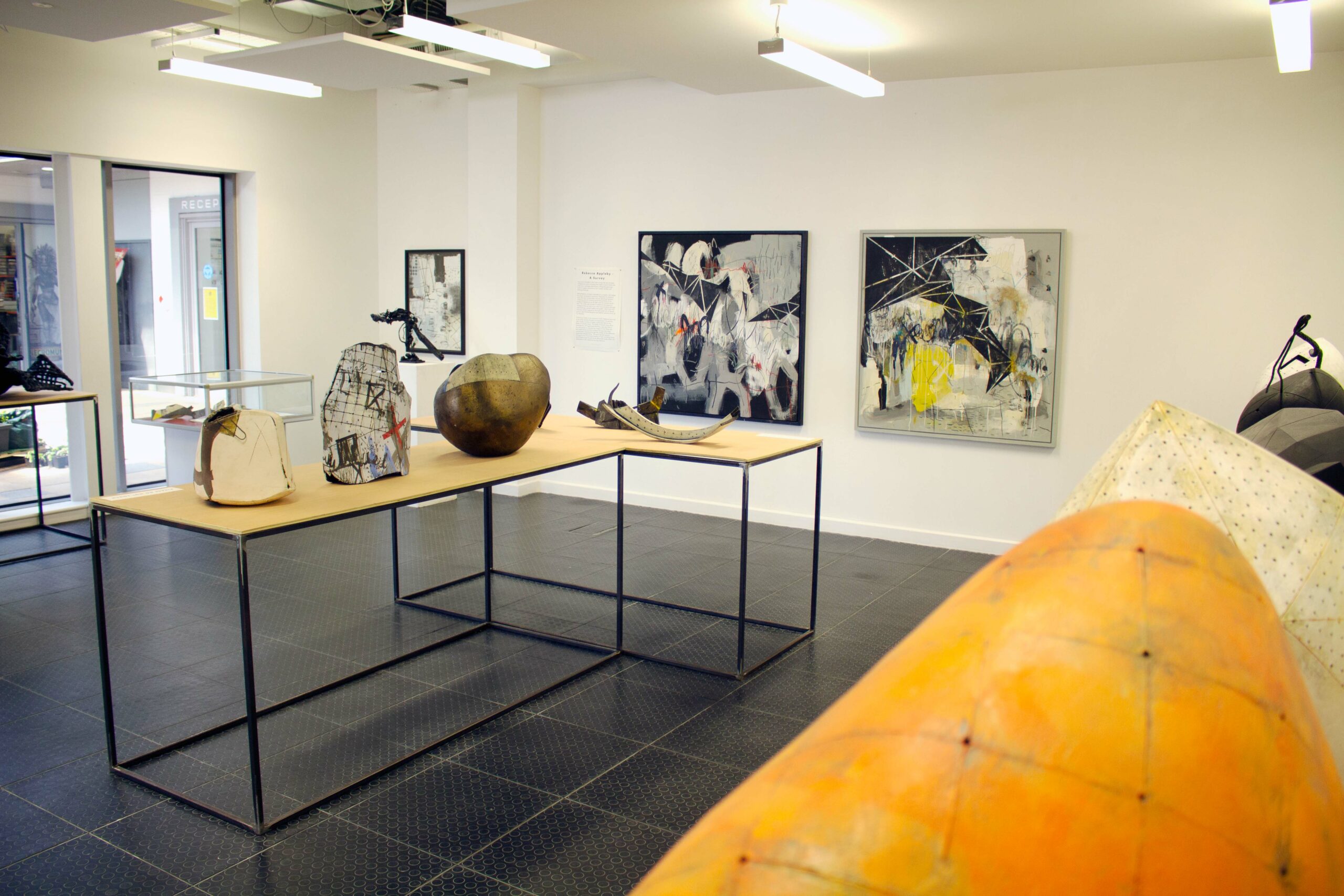 Rebecca Appleby – A Survey
The works included in this room survey the last 20 years of Rebecca's work, including the classic ceramic forms for which she is perhaps best known, alongside paintings, works on paper and some of her smaller studies and working drawings.
Whilst Rebecca is highly regarded as a sculptor, she began her career focussing on painting. Gradually the abstract marks that she incorporated into her paintings became a starting point for thinking about the surfaces of her sculptural objects as can be seen with the earliest works here. The marks can be seen to reference the layers of messaging that we find in our urban environments through road markings, pasted leaflets and graffiti. Work from this time was heavily inspired by the early street art of figures such as Jean Michel-Basquiat and abstract painters such as Cy Twombly.
Following a break in her practice in 2017, Rebecca returned to her work initially through a re-exploration of painting with a body of works on paper, presented here as the Marks of Industry series. The body of ceramic work which followed this, A Fragmented Harmony, were the first of her new pieces to consider the impact of the illness she had experienced and this is shown through the metal components rupturing through the surface of the otherwise organically shaped forms. This work has led directly through to her most recent bodies of work including Grace and Infrastructure as well as the Aftermath series which are presented in this exhibition for the first time.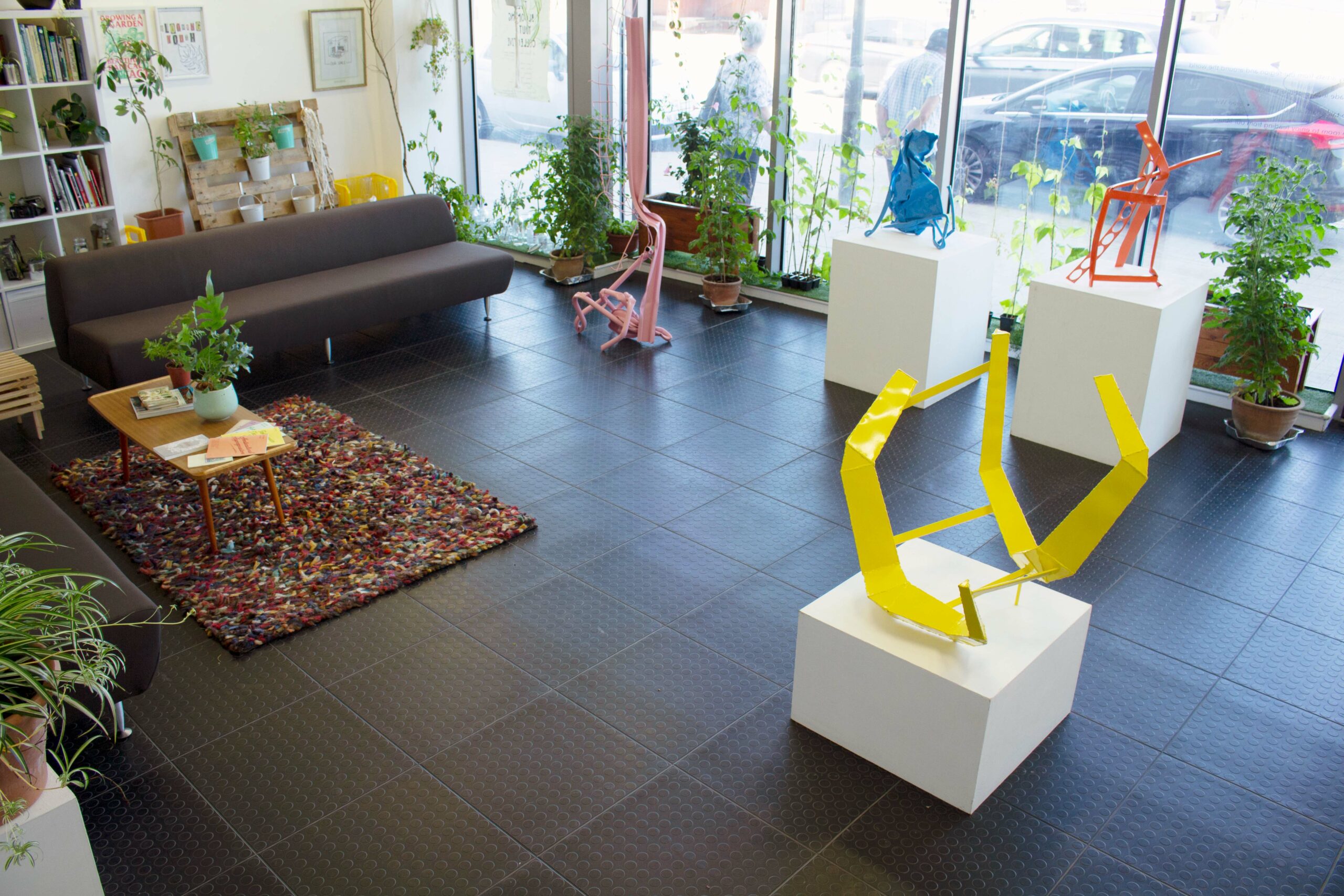 The Garden Gallery
In this gallery we are showing recent bodies of work by Rebecca that relate to natural forms and the outdoors. A series of ink on paper drawings are based upon representations of root structures. In 2020 Rebecca was commissioned to make a large-scale sculpture in bronze which took tree roots as its starting point and these drawings continue the exploration.
In the centre of the room is a model (maquette) for a large-scale public sculpture that Rebecca was commissioned to complete in 2019 as a commemoration of the historic Kirkstall Forge near Leeds. Photographs presented here document the process of making and installing the work. It was through this that Rebecca developed a working relationship with metalsmith Mick Kirkby-Geddes, which led to a series of collaborative outdoor sculptures. These objects are constructed using found metal components which are reshaped, welded and powder coated to produce an intense surface colour. They are presented in this exhibition for the first time.
Our Garden Gallery space has been developed for us by our young people's programme The Blooming Youth Collective and is a permanent feature with each exhibition integrating into the gallery differently. It is designed to be a comfortable space to enjoy the exhibition, read a book from our library or use our free WIFI. The work shown by Rebecca here has been curated with Blooming Youth Collective.