The Exhibition Hall
This room tells a story of how an industry has helped to bring a community together, creating bonds which are enduring. In 2019 Tees Valley Arts supported a voluntary group from Dormanstown called Ladies of Steel to mount their annual Steel Gala. The photographs on display here document the day and were taken by Saltburn based photographers Kev Howard and Heidi Knights. Here you will also see two banners made for an opening procession by Ladies of Steel and another women's group from Middlesbrough called The Thorntree Roses.
You will also hear a sound work which is being premiered in this exhibition. Ladies of Steel invited Liverpool based composer Patrick Dineen to work with them and create this new work that explores how communities have responded to the changes that they have experienced over recent decades. Patrick carried out over 20 hours of interviews and condensed these down into an hour-long work with a composed score. The full interviews will be available to listen to on the Tees Valley Arts website.
Patrick would like to thank Ladies of Steel, all the interviewees who generously gave their time to make this work, Sara Dennis and Carmen Marcus. This exhibition has been curated by Miki Rogers and James Beighton.
Not In A Room On Our Own – A Social Life of Steel
by Patrick Dineen
This audio piece was written and composed by Patrick Dineen. It was created using the voices and thoughts of people from Redcar and the surrounding area. The son 'Come Along Brave Boys'; was performed by the Marske Fisherman's Choir.
Portraits of the Interviewees by Kev Howard
Photographs of the Steel Gala
by Kev Howard
by Heidi Knights
Aphra O'Connor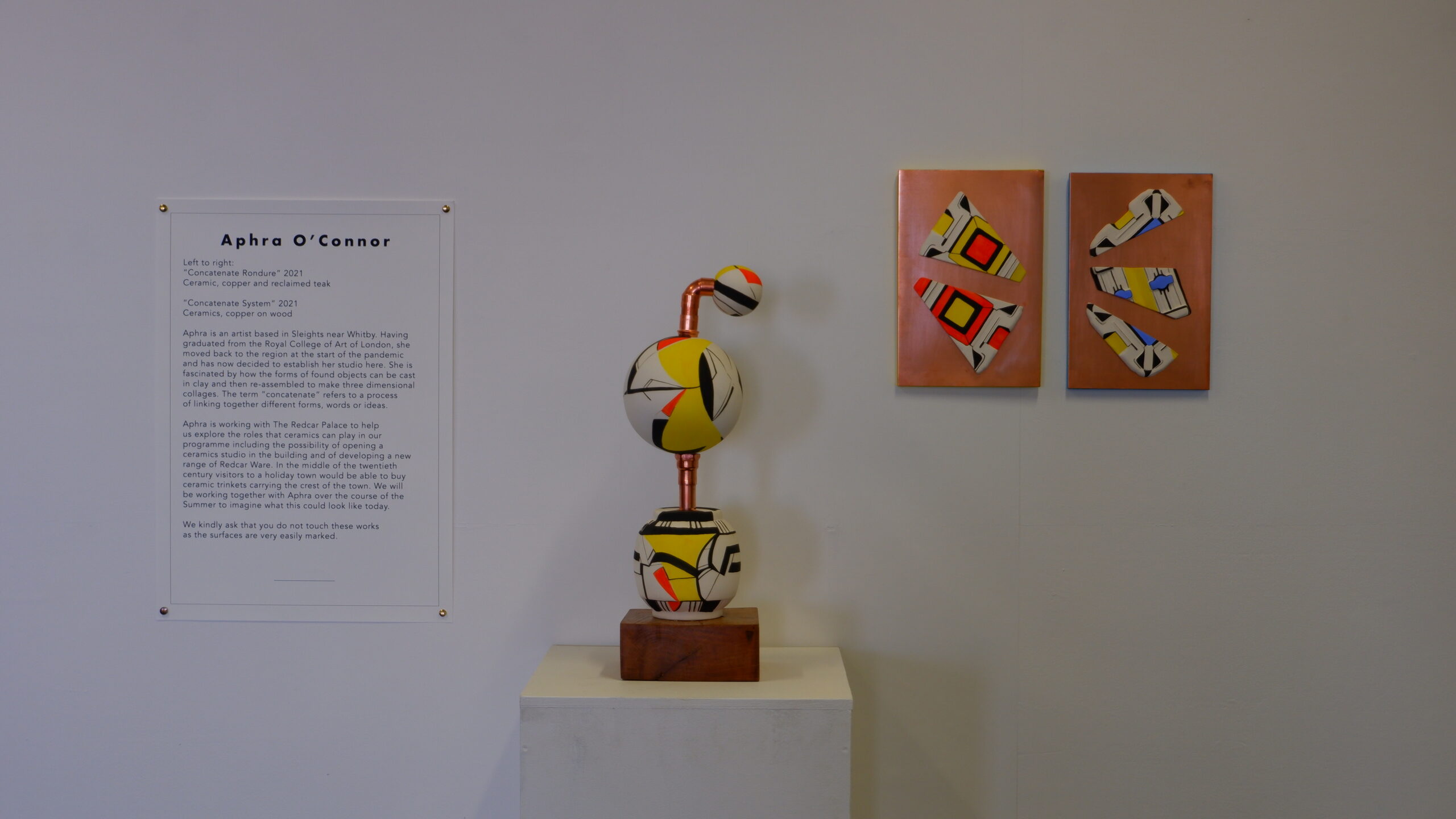 Left to right
"Concatenate Rondure" 2021.
Ceramic, copper and reclaimed teak
"Concatenate System"
Ceramics, copper on wood
Aphra is an artist based in Sleights near Whitby. Having graduated from the Royal College of Art of London, she moved back to the region at the start of the pandemic and has now decided to establish her studio here. She is fascinated by how the forms of found objects can be cast in clay and then re-assembled to make three dimensional collages. The term "concatenate" refers to a process of linking together different forms, words or ideas.
Aphra is working with The Redcar Palace to help us explore the roles that ceramics can play in our programme including the possibility of opening a ceramics studio in the building and of developing a new range of Redcar Ware. In the middle of the twentieth century visitors to a holiday town would be able to buy ceramic trinkets carrying the crest of the town. We will be working together with Aphra over the course of the Summer to imagine what this could look like today.
The Table
The Redcar Postcard Collection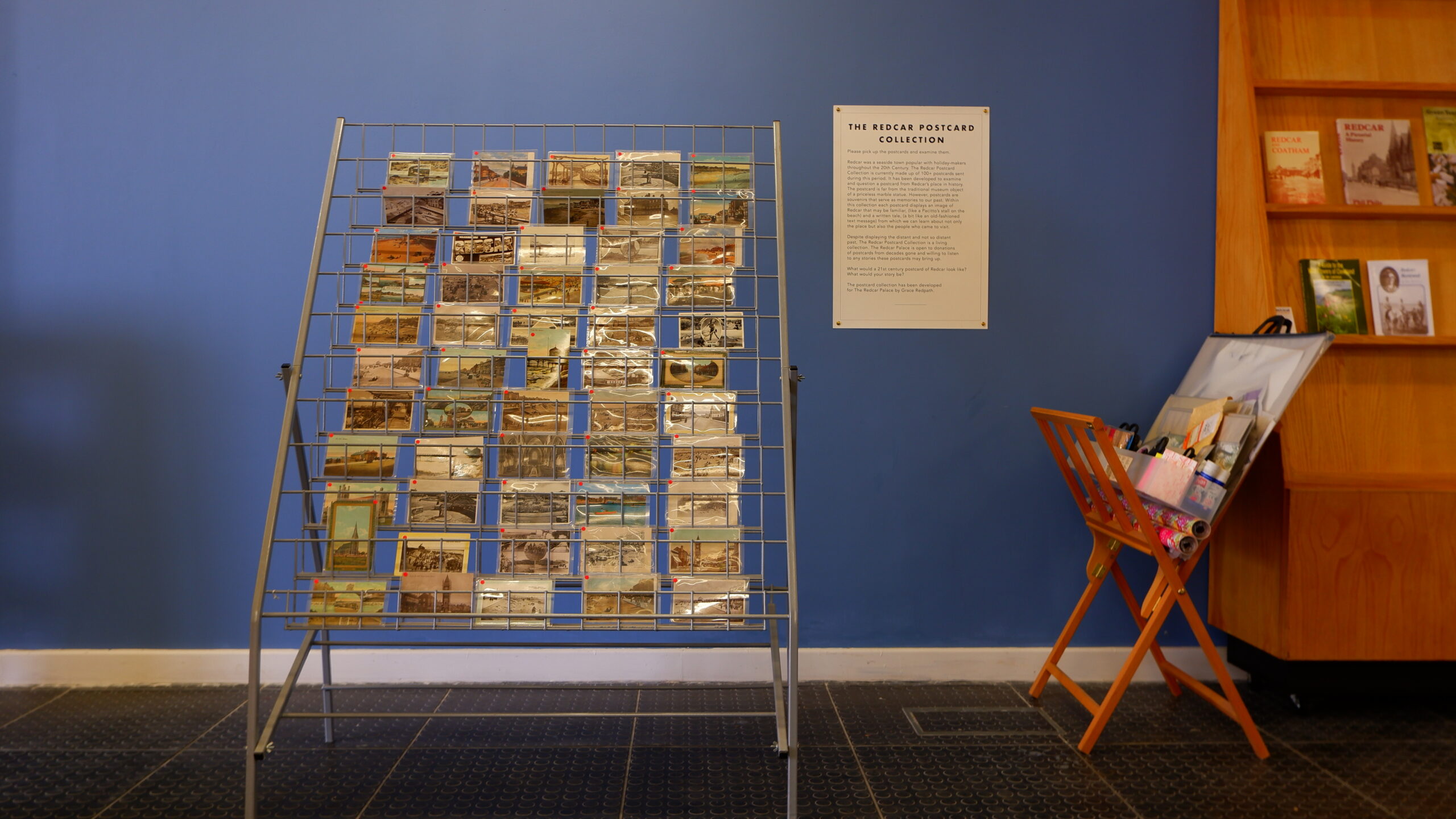 Redcar was a seaside town popular with holiday-makers throughout the 20th Century. The Redcar Postcard Collection is currently made up of 100+ postcards sent during this period. It has been developed to examine and question a postcard from Redcar's place in history. The postcard is far from the traditional museum object of a priceless marble statue. However, postcards are souvenirs that serve as memories to our past. Within this collection each postcard displays an image of Redcar that may be familiar, (like a Pacitto's stall on the beach) and a written tale, (a bit like an old-fashioned text message) from which we can learn about not only the place but also the people who came to visit.
Despite displaying the distant and not so distant past, The Redcar Postcard Collection is a living collection. The Redcar Palace is open to donations of postcards from decades gone and willing to listen to any stories these postcards may bring up.
What would a 21st century postcard of Redcar look like?
What would your story be?
The postcard collection has been developed for The Redcar Palace by Grace Redpath.