After a whole lot of hard work and planning, May 2021 saw the Blooming Youth Collective come to life. We are a group of young people focused on friendship, diversity, inclusivity, well-being, and sustainability. Here is an overview of what 2021 was like for Blooming Youth…
The Blooming Youth Collective is a peer-led young people's group, using crafts, gardening, and activism to help foster friendships, grow confidence, and provide the opportunity to learn new skills.
One of the first Blooming Youth workshops to take place in 2021 was a herb garden session, where we learned how to plant and take care of our own mini herb gardens.
Growing plants and flowers was one of the main inspirations behind the creation of the Blooming Youth Collective.
Plants continue to grow and change, even throughout periods of lockdown where time seemed to stand still. A simple yet poignant concept that helped Assistant Curator and lead of the young people's programme Beth Smith cope with challenging periods of the pandemic.
Beth said: "Blooming Youth was born out of the need to address social isolation within young people during the pandemic. Through this, we recognised the loneliness that young people face that leads to social isolation beyond the confines of lockdown. We created a programme of weekly activities, including workshops each Monday to bring young people from the local area together, and give them the chance to chat, make friends, and learn new skills in the process."
Workshops continued throughout the year and we macramed, crocheted, and even ukuleled our way through the month of June. We learned new skills, chatted, laughed, and crafted!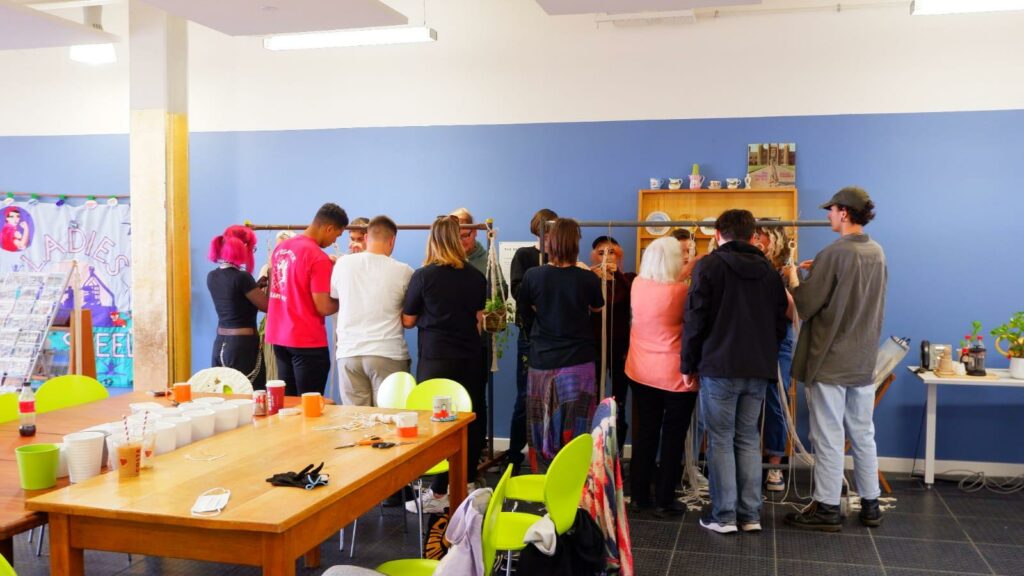 Another key part of what we do as Blooming Youth Collective, is getting involved with events in the local area and supporting fellow organisations. So, in July, we brought the plants to the people at the Barefoot Kitchen Barrow Market, braving the 30℃ weather to sell some homegrown plants and flowers.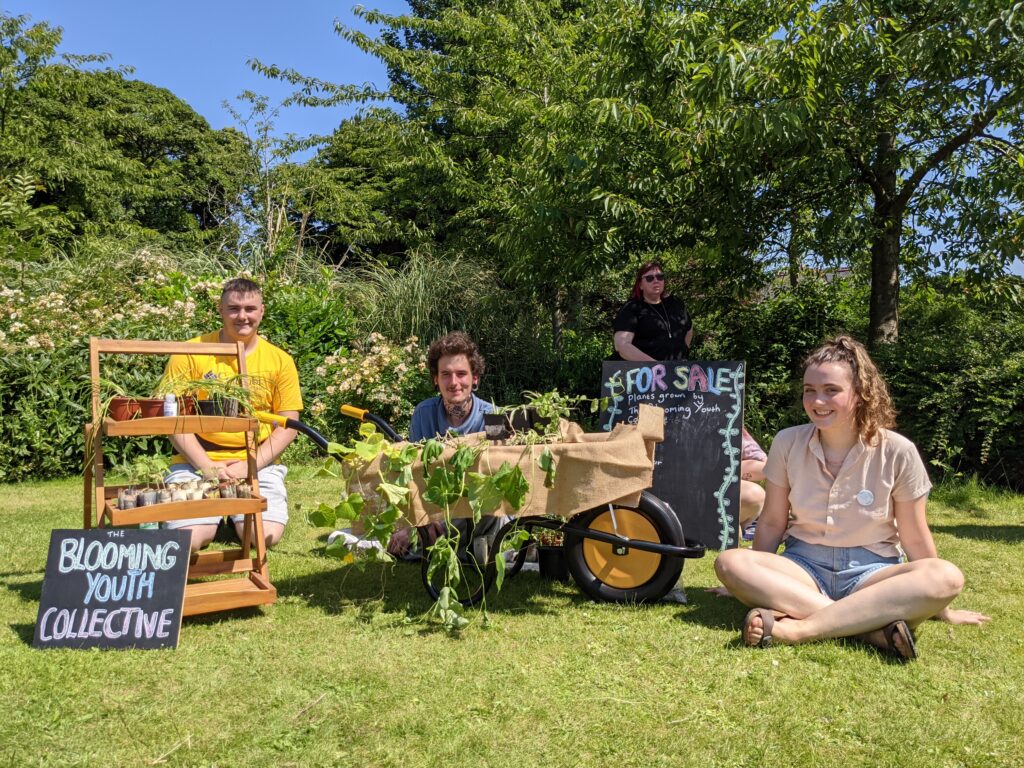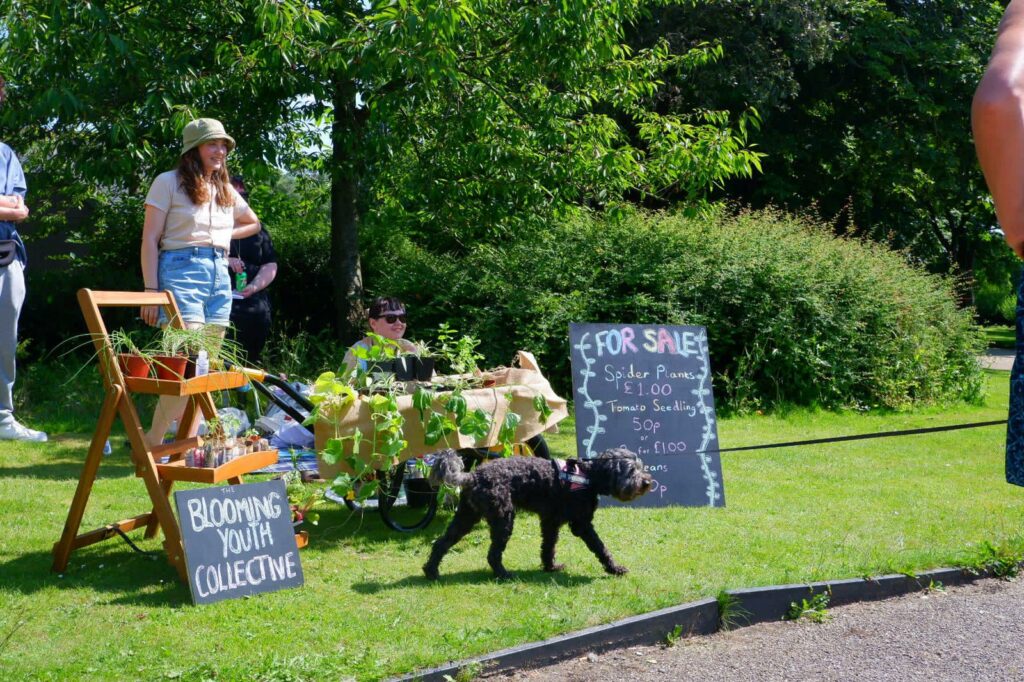 As the sun shone throughout the summer the Blooming Youth adventures continued, and we made a trip to Sunderland to visit the museum and winter gardens! Despite the name the weather was in fact lovely and warm and we enjoyed looking around the plants and making friends with the koi fish.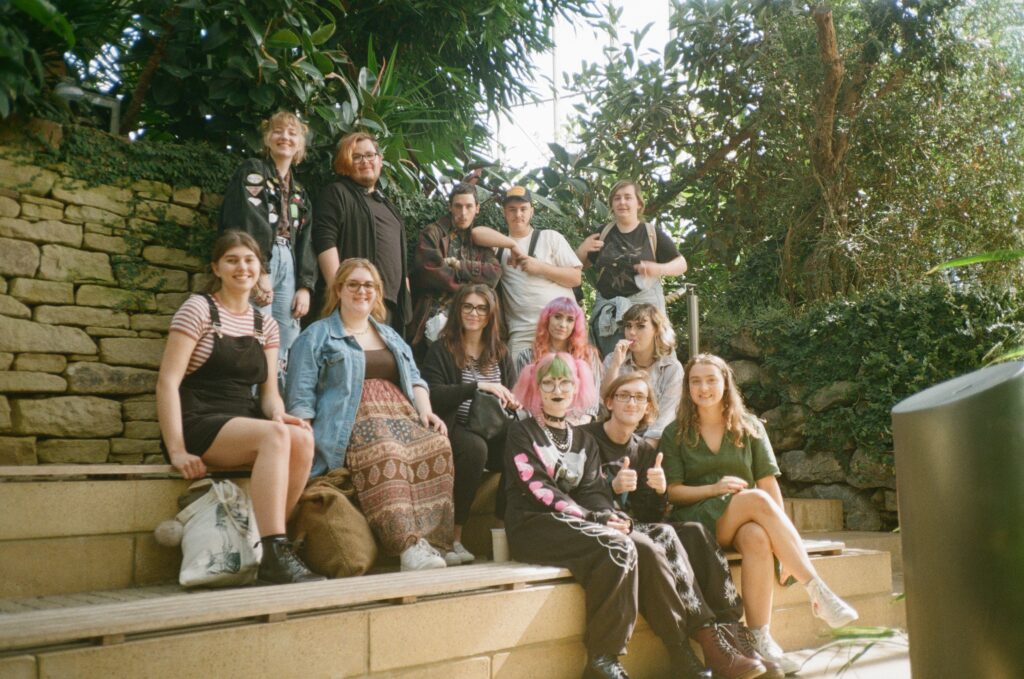 September rolled around and we kicked off the early Autumn with a clothes swap, some more crochet, a spooky movie, and we had a wholesome old time creating seed bombs with the Friends of Redcar Cemetery.
During our collaborative session, one member of Blooming Youth and one member of Friends of Redcar Cemetery were paired together to mix clay, seeds, soil, and water to create seed balls with seeds taken directly from the wildflower area of the cemetery. Followed by lots of tea, coffee, and cake, it was a perfect way to spend a day!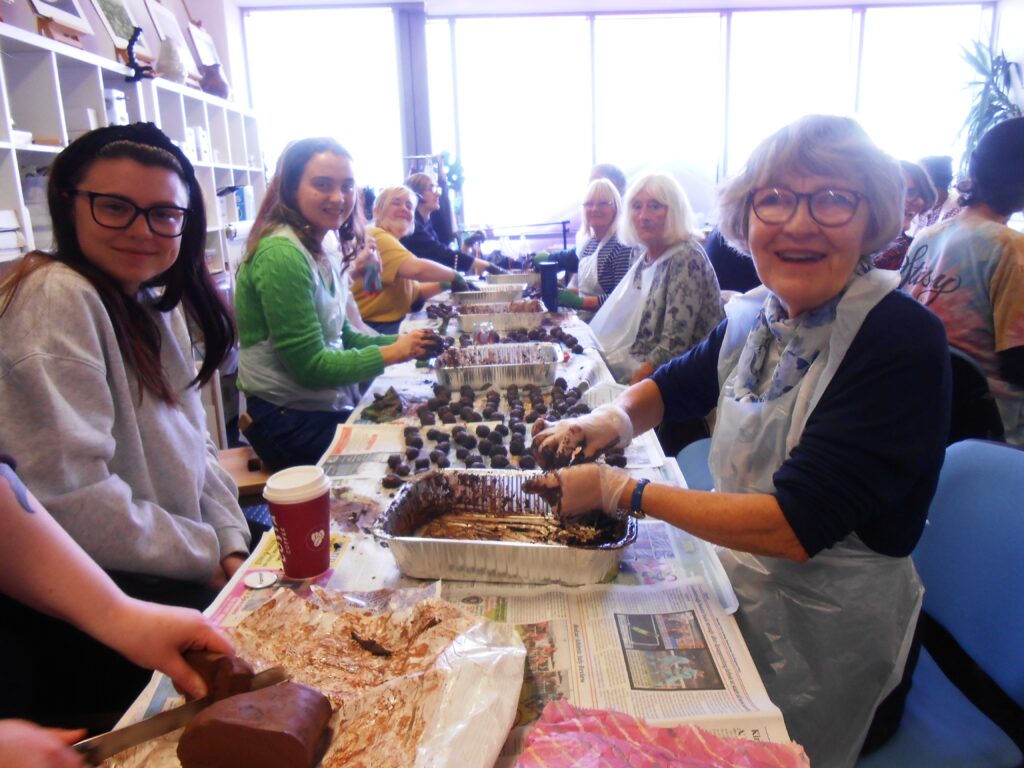 Later in the season we got to work creating protest signs in preparation for the COP26 Climate Change Protest in Newcastle. With sustainability being at the forefront of everything we do as Blooming Youth Collective, attending the protest was a total no-brainer.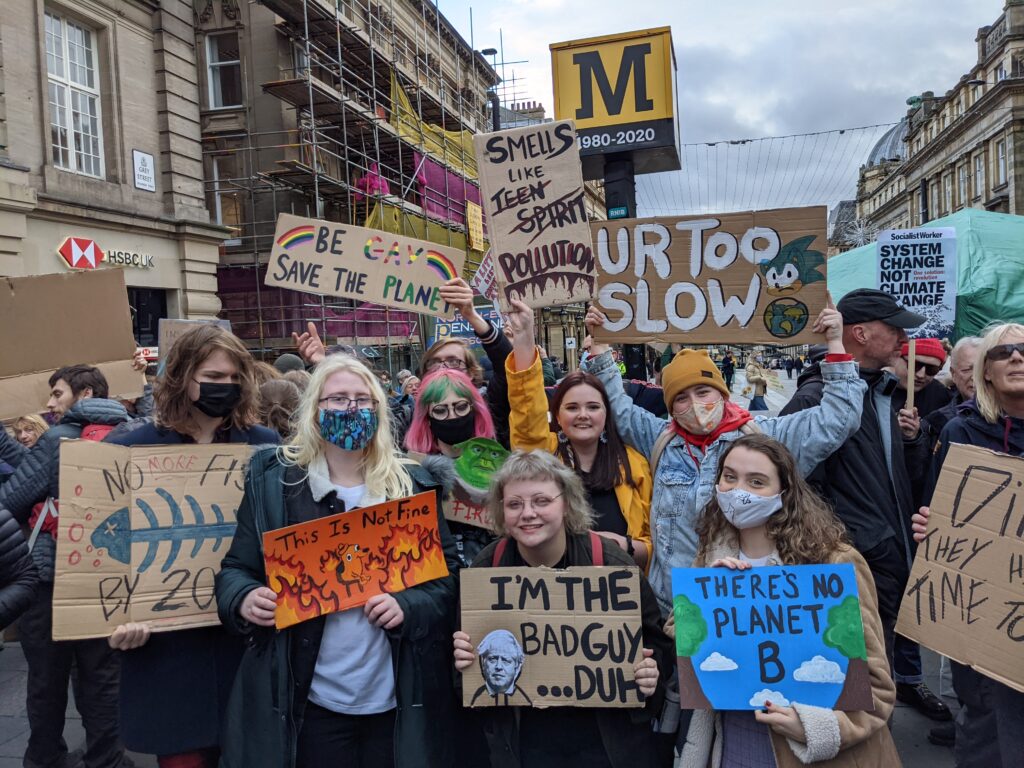 In November we were lucky enough to have Carmen Marcus host a writing workshop with us. Carmen is a local writer and poet, and one of the creatives behind The Catch. The workshop, which was part of the community project Northern Girls, looked at cryptids, folklore, and the creative writing process. Plus, after the session, we had a lovely little venture on to the beach and collected some sea glass in the sun.
Next on the agenda was a yoga class with Green Sea Yoga. We had a lovely time learning about the origins of yoga and the different ways that it can positively impact our lives and well-being. Plus we had a calming sea view whilst we practiced!
In December, we got into the festive spirit with some lino printing! We drew up some designs then got carving ready to print some cute Christmas cards. With designs ranging from festive trees to reindeer to Krampus, this workshop definitely got us in the festive mood.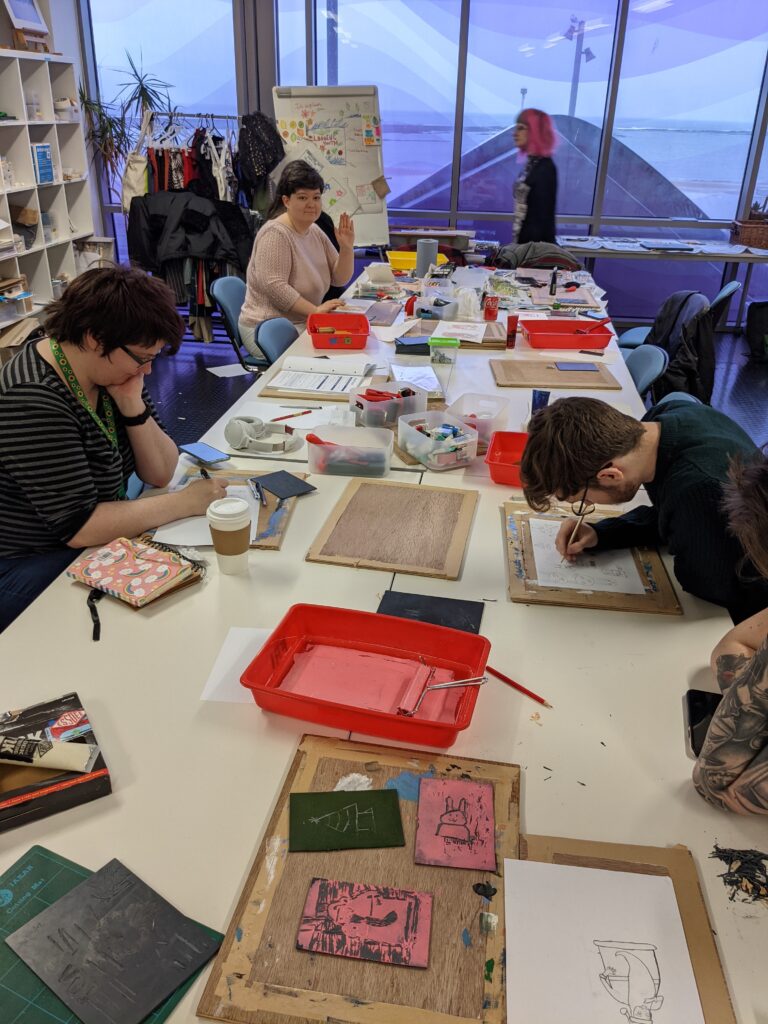 Our final big blooming adventure of the year was a trip to Whitby to take part in the Generation Green residential with the North York Moors team. We explored Staithes and Runswick Bay, took part in "Don't Drink and Drown" water safety training with the Royal Life Saving Society, and we designed t-shirts and tote bags with Serena Partridge! A jam packed couple of days that were so fun and rewarding.
Amy Smith, member of Blooming Youth Collective, said: "It was a nice reintroduction to a nostalgic area of the North. I really enjoyed being able to participate in all the activities."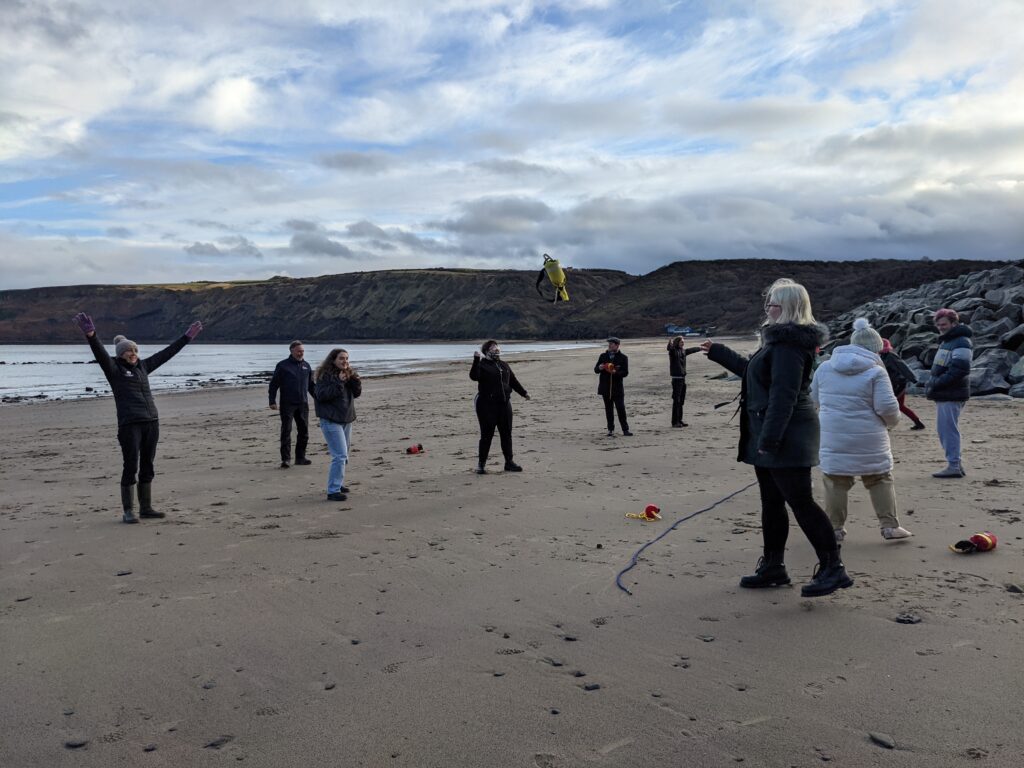 To round up the year for Blooming Youth we took part in an anti-racism session with Show Racism the Red Card. We learned about unconscious bias, discrimination, and racism. It was an incredibly informative session and we all spoke openly and honestly in the safe space we created.
Unfortunately due to covid and the omicron variant, we had to call off the rest of the Blooming Youth sessions for the rest of the year. Safety is our main priority and we just didn't feel right hosting sessions when covid was so rife!
As much as this was disappointing, it was so incredible to look back on all the amazing things Blooming Youth Collective did in 2021. We've seen friendships and connections form, people learn new skills and grow in confidence, and made Blooming Youth the beautiful thing that it is! The adventure continues in 2022 and we cannot wait to see you all and what we get up to this year.